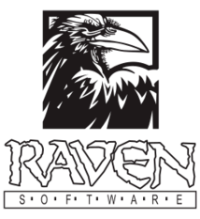 Full Time Job
Narrative Designer
Raven Software
Job Description
Job Title:
Narrative Designer

Requisition ID:
R005973

Why Raven?

Here at Raven, we pride ourselves on our unique vision for the industry that continues to inspire us after more than 30 years. We developed a team that cares about one another, our games, and our players. We treat each other with respect. We bring no egos. We focus on what is best for the game. We hire stunning peers. We own our mistakes. As we enter the next exciting chapter of our story, we are looking for people to grow with us. If you want to work with a world-class team, on exciting new projects, then apply today! We look forward to hearing from you.

Your Mission

Your mission is to help craft a narrative that will be enjoyed by millions of gamers across the globe. An agile and flexible mindset is also necessary since this position actively partners with a variety of internal and external partners. Excellent and persuasive communication skills are a must. Above all, we are looking for an innovative and dedicated teammate to help tell our story.

You will…
• Collaborate with Creative Directors, Designers, Engineers, Artists, Producers, and Animators to deliver a world-class game narrative.
• Write, review, edit, and implement dialogue and text for cinematics, in-game scenes, game assets, UI, and other related materials.
• Research subject matter relating to the narrative to ensure an authentic experience.
• Be a proactive self-starter that can independently execute high-level direction.
• Play builds of the game in-progress and provide concise, prioritized feedback.

You Bring…

Minimum Requirements:
• 3+ years in the games industry working in a narrative or design capacity, with at least 1 shipped title in the AAA console / PC space.
• Screenplay, fiction, or game writing experience.
• Experience with programming/scripting languages.
• Strong problem-solving skills.
• Passionate and egoless attitude that welcomes feedback and criticism, and enjoys working in a collaborative, iterative, and agile process.
• Impressive communication skills.
• Ability to execute high-level direction in a timely manner.
• Solid understanding of modern single-player design with ability to clearly discuss trends.
• Passion for games with a desire to make an impact at an industry level.
• Good problem-solving skills.
• Expertise in creating high and low-level documentation using tools like Power Point, Word, Excel, Visio, etc.

Extra Points:
• Profound understanding of the Call of Duty franchise and Warzone.
• Comprehensive knowledge and understanding of the FPS games space.
• Prior experience working on a AAA first-person shooter.

About Activision

Activision Blizzard, Inc. (NASDAQ: ATVI), is one of the world's largest and most successful interactive entertainment companies and is at the intersection of media, technology, and entertainment. We are home to some of the most beloved entertainment franchises including Call of Duty®, World of Warcraft®, Overwatch®, Diablo®, Candy Crush™ and Bubble Witch™. Our combined entertainment network delights hundreds of millions of monthly active users in 196 countries, making us the largest gaming network on the planet!
Our ability to build immersive and innovate worlds is only enhanced by diverse teams working in an inclusive environment. We aspire to have a culture where everyone can thrive to connect and engage the world through epic entertainment. We provide a suite of benefits that promote physical, emotional, and financial well-being for 'Every World' - we've got our employees covered!
Location
Company Profile
Raven Software
Activision Blizzard, Inc. is one of the world's largest and most successful interactive entertainment companies and is at the intersection of media, technology and entertainment.