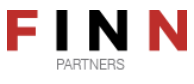 Full Time Job
Office Manager
Finn Partners
Munich, Germany
02-15-2021
Job Description
Finn Partners in Germany is looking for a motivated Office Manager for its fast-growing offices. Candidates should have a completed apprenticeship and experience, ideally in either an agency, press department or publishing house. The position is initially limited to a 50% part-time contract.

This person will serve as a point of contact, both internally and for clients, suppliers and business partners. He/she will handle the day-to-day activities around accounting and bookkeeping for our German operation and will support the team on an administrative and organisational level.

Primary responsibilities:
• Ensuring all clients are billed in a timely manner according to their contracts
• Assistance to consultants with expenses and timesheets
• Management of WIP expenses, through billing or write-off to company cost - maintaining a minimum monthly balance at all times.
• Collection of client debts, liaising with client teams where necessary
• Entering of all subsidiary related purchase invoices and credit card statements
• Management of Purchase Ledger, including fortnightly payment run
• Daily entry of payments and receipts from bank statement and monthly reconciliation
• Assistance to the external accountant with VAT & business tax calculations, including filing
• Administrative assistance to subsidiary Managing Partner – budgeting, mobiles, expenses
• Point of contact for the external accountants, assisting with the audit

The ideal candidate:
• Completed apprenticeship in accounting or office management
• First experience, ideally in an agency, press department or publishing house
• Organisational talent and team player
• Proactive work ethics
• Excellent English skills
• Excellent MS Office skills
• Prior experience with NetSuite are helpful, but not necessary

About Finn Partners:

Named as a Best Place to Work 2020 by PR Week, 700+ of the most accomplished professionals in the industry make up Finn Partners. With 20 offices across eight countries around the world, our managing partners alone have more than 175 years of combined experience working in the consumer, technology, travel & leisure, financial services, healthcare, education and manufacturing sectors. The firm offers a full-service approach including integrated public relations, content creation, social, digital marketing and research services. Founded in New York in 2011 by Peter Finn with an innovative new model in which entrepreneurial spirit, innovation and partnership drive client success and sustainable agency growth, the firm delivers world-class client service, coupled with best-in-class employment practices, to produce award-winning work and a rewarding culture.
Location
Company Profile
Finn Partners
Finn Partners was launched in late 2011 to realize Peter Finn's vision to create a leading communications agency dedicated to shaping a bold new future in which innovation and partnership are strong drivers of the brand. Finn Partners specializes in the full spectrum of communications services, including digital and social media. Specialty areas include technology, consumer, education, travel & lifestyle, CSR, arts, health, and public and corporate affairs.