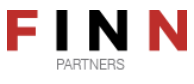 Full Time Job
Marketing and Communications Director
Finn Partners
Job Description
FINN Partners is a fast-growing, independent global marketing and communications firm. We are seeking an agency Marketing Director to oversee our firm's marketing efforts. This individual must be experienced in leading and running successful integrated B2B marketing efforts, ideally for professional services, creative/digital marketing services, and/or consulting firms, from strategic and creative direction to managing all aspects of paid and organic digital marketing (search, social, display/PPC), content, distribution, lead generation, marketing automation, social).

The Marketing Director will help set strategic direction for the brand and manage planning, implementation, and execution of all marketing activities, both at the global agency level and for individual practices, to achieve agreed-upon goals. The Marketing Director position is supported by two dedicated staff members and has access to additional agency resources to execute the plan (creative, web development, content, etc), and supports offices and practice teams.
REPORTING RELATIONSHIP:
The Marketing Director reports to the Founding Managing Partner and coordinates matters with other administrative directors and managers within the firm.

SUPERVISES: Marketing Manager and Content Coordinator
DUTIES AND RESPONSIBILITIES:
• Lead and supervise all branding, marketing, advertising, communications, content and public relations efforts designed to achieve the firm's strategic objectives.
• Work with the Managing Partners and agency business development leader to design a strategic marketing plan aimed at ensuring strong brand awareness, perception, and consideration in the marketplace.
• Develop and oversee channel marketing strategy and implementation, including owned web and social channels.
• Collaborates with and coordinates day-to-day activities with the business development, creative, web, and paid media teams.
• Collaborate and support, as appropriate, strategy and execution of marketing services for agency practice leads and office heads.
• Oversee design of business development materials including agency capabilities and program proposal presentations for prospective clients.
• Directs strategic brand planning research and insights work, including digital research and listening, client/prospect research, and market trends and forecasting.
• Oversees the planning and execution of seminars, special events, industry meetings, webinars, virtual meetings, exhibits, sponsorships, presentations, internal marketing events and other ad hoc marketing.
Location
Company Profile
Finn Partners
Finn Partners was launched in late 2011 to realize Peter Finn's vision to create a leading communications agency dedicated to shaping a bold new future in which innovation and partnership are strong drivers of the brand. Finn Partners specializes in the full spectrum of communications services, including digital and social media. Specialty areas include technology, consumer, education, travel & lifestyle, CSR, arts, health, and public and corporate affairs.