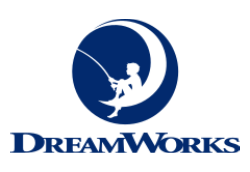 Full Time Job
Feature - Supervising Animator
DreamWorks Animation
Job Description
Responsibilities
DreamWorks Animation is looking for more adventurous dreamers who shoot for the moon. We tell stories about the journeys our unconventional heroes take to make dreams come true. As a growth-minded studio, we pride ourselves on being one of the world's leading producers of high-quality, award-winning, animated films and series, reaching consumers around the globe. We push to feel more, laugh more, and build immersive new worlds.
DreamWorks creates a diverse array of original content in a variety of formats, delivering compelling stories with unique characters. We place tremendous value on the experiences our talent brings to the table from their own non-traditional paths to success. We believe in frequent communication and that transparency and trust yield the best work. We are a community of artists, technologists, innovators, and creators, who are passionate about animation and also happen to love eating lunch together.
The Supervising Animator works closely with the Head of Character Animation, the Production Supervisor, and other Supervising Animators to manage and run the animation department. This person is the creative lead for designated sequences and/or characters.
If you are part of the fandom and believe teamwork makes the dream work, join us in #livingthedream and #doingyourdreamwork!
Responsibilities: ''What would you say you do here?''
Creative:
• May be involved in helping to design characters on a movie by directly providing inspirational drawings and/or having hands on involvement with the Modeling department to finalize the design.
• May be involved with initial 2D or 3D tests to help define the personality of the character involved.
• Work well with the Director to help define the acting requirements on both a sequence and shot basis.
• Animate key shots within the sequence that help to define the acting and are an inspiration for other shots within the sequence.
• Work with animators to ensure the creative goals by the Director are met. Involves hands-on relationship with the artists, viewing sequences before the Director, and collaborating during Director approvals on shots.
• Participate in animation reviews and meetings (dailies, walk-throughs, pre-production meetings, blocking meetings, editorial meetings, etc.).
• Track story and continuity issues within the sequence. Technical:
• Assist in the set-up of department structure for the film: hardware, software tools, production process, and training. May also assist in longer term department structure strategies for the studio.
• Work closely with the Character TDs, Head of Character Animation , and other Supervising Animators to ensure the performance requirements of the character work with the rig and tools. Also ensure ongoing communications with the Character TD's to make sure the process runs smoothly.
• Work with other Supervising Animators to reach consensus on the rig philosophy and to achieve consistency across all characters (e.g. naming conventions).
Managerial:
• Interacts with other departments to ensure acting performance of characters is preserved across all sequences.
• Appropriately elevate issues and solutions to Production Management effectively.
• Work closely with the Head of Character Animation and Production Supervisor in the management of the department.
• Work with the Head of Character Animation and Production Supervisor to hit sequence deadlines and ensure the quotas are met for both shots and sequences.
• Work with the Head of Character Animation, Production Supervisor, and Directors on casting shots/assignments to Animators within the sequence.
• Responsible for improving the performance of Animators on the team. Mentor Animators to provide guidance, experience and insight. Involved in trying to resolve performance related issues.
• Responsible with Production Supervisor for maintaining crew morale. Foster good working atmosphere and ethics.
• Deliver reviews with Production Supervisor to crew members; help manage career growth of staff; provide recommendations for promotions.
• Work with management in the casting and staffing of talent on the show.
• Help with recruiting and perform interviews. Ensure that animation new hires are provided the necessary training.
• Responsible for participation in the unification and initiatives for the studio.
• Facilitate meetings with artists to keep the crew informed on show changes and requirements.
• Ensure open lines of communication with other departments and department heads.
Qualifications/Requirements
''What do I need to have in order to do this job?''
• Must be able to provide a reel/portfolio of work examples -- if available, include a web address when you submit your resume
• In-depth knowledge of the principles of Character Animation.
• Proficient in English.
• Must have experience on multiple Feature Films.
• Must display leadership qualities and strong interpersonal skills.
• Willingness to work overtime when necessary.
• Must be willing to work in Glendale, CA
Desired Characteristics
''What can I offer?''
• Works well in a team.
• Drawing skills and experience in 2D animation
• Good knowledge of CG pipeline
• Basic Rigging knowledge
Jobcode: Reference SBJ-gm9bym-44-201-94-72-42 in your application.
Find More Jobs Like This
Location