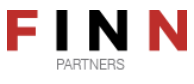 Internship
Intern - PR
Finn Partners
Singapore, Singapore
10-14-2020
Paid
Internship
Entry (0-2 years) Experience
Job Description
You're finding a place to kickstart your career, and we know how important it is to make your first stint in PR actually count. So, here's what we can do for you.

Ying Finn offers the best of both worlds - the heritage of a homegrown agency, plus a global network spanning 18 cities. We're proud of our 800-strong team and believe (relentlessly) in the work we do.

With us, you'll get to support some of the biggest (and seriously cool) companies in the world. Uncover the world of endless transformation and get behind the latest technologies in every industry - from hospitality to healthcare.

This could mean gaining a ringside seat in the shady world of cybersecurity on one day. On another, you could just be part of a global movement to improve financial access and drive inclusivity. What can we guarantee though? No two days in our office are the same.

We are…

The most un-agency agency you will ever work for.

You will…

Have a finger in pretty much every pie. With us, you will learn to:
• Write compelling content: r esearch and produce strong first drafts of B2B content
• Engage the media: come up with and pitch story ideas to heard-it-all journalists who will need to be wow-ed
• Run point on social: be involved in community engagement for our social media programs, with all the fun and agony of staying on top of a world that never sleeps
• Navigate the business of PR: supportthe development of new business proposals and understand what it takes to win a new client
Of course, you will have help from the seniors in the team, who will show you the ways of the force and bring you back to the light side when you stray. We never stop learning, because we don't know it all, and never will.

Do you have what it takes?

The PR Intern we are looking for must be a high-energy multi-tasker who enjoys writing and have an obsessive-compulsive attention to detail. A natural sense of curiosity would serve you well as you will dive into some pretty technical industries. You don't have to know it all, but you must want to learn it all.

Work hard. Have fun. No drama.That's what it says on our office wall, and we mean it. If it resonates with you, then swipe right and we might just be a good match.
Location
Company Profile
Finn Partners
Finn Partners was launched in late 2011 to realize Peter Finn's vision to create a leading communications agency dedicated to shaping a bold new future in which innovation and partnership are strong drivers of the brand. Finn Partners specializes in the full spectrum of communications services, including digital and social media. Specialty areas include technology, consumer, education, travel & lifestyle, CSR, arts, health, and public and corporate affairs.