This posting is no longer active and was removed on 07/28/2020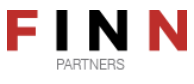 Full Time Job
Vice President, PR & Social Media
Finn Partners
Singapore, Singapore
07-15-2020
Paid
Full Time
Executive (10+ years) Experience
Job Description
Is Ying the right place for you?

Work hard. Have fun. No drama.That's what it says on our office wall, and we mean it. We are the most un-agency agency you will ever work for, largely because we were founded by two geeks, Yinch and Allan, who simply didn't know better.

What does this mean? You'll get to:
• Work for bosses you can respect, and yet make fun of – in their face
• Support some of the most innovative (seriously cool) companies in the world
• Learn new stuff all the time, because we know we don't know it all, and never will
• Work like hell, but have fun in the process (read: impromptu 'band' jams, meme fests, courtyard/virtual hangouts, and lots of eating and drinking)
• Come to work in whatever you feel most comfortable in – as long as it's legal and there aren't any client commitments
• Not fill up any timesheet. Yes, you read it right. No. Timesheets.

The job of a Vice President, PR & Social Media

The person we are looking for has an insatiable appetite for growing the business and for learning and development – personally and for the team. You empower your team members. You have rock-solid industry and client relationships that stand the test of time. You are a super-organized obsessive-compulsive whose attention to detail is impressive and slightly inhuman.

You care equally deeply about the work that you do, as well as the people who work with you. To you, good-enough is never good enough.

You've worked in communications for the last 12-20 years, with a good portion of those years in an agency environment. We won't bore you with the usual JD. The buck stops with you where client, team and partner relationships are concerned. Whether it is developing strategic plans, leading new business pitches, or managing a team, you have no issues staying on top of it all.

Above all else, growing and maintaining our ''work hard, play hard, no drama'' culture is paramount.

If you are someone who is an amazing communications professional, takes pride in cultivating a positive and nurturing work culture, believes in zero tolerance for office politics, and is the embodiment of servant leadership, you are the person we're looking for.

Will it be hard work? Yes. Will it be fun? Hellyes. Check out our Facebook pageand find out more about the kinds of things we get up to.
Location
Company Profile
Finn Partners
Finn Partners was launched in late 2011 to realize Peter Finn's vision to create a leading communications agency dedicated to shaping a bold new future in which innovation and partnership are strong drivers of the brand. Finn Partners specializes in the full spectrum of communications services, including digital and social media. Specialty areas include technology, consumer, education, travel & lifestyle, CSR, arts, health, and public and corporate affairs.