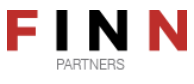 Full Time Job
Senior Account Manager - Consumer
Finn Partners
London, United Kingdom
02-09-2021
Paid

Full Time
Senior (5-10 years) Experience
Job Description
Finn Partners is one of the fastest growing communications firms in the world. From media relations to cutting edge digital content, social media and creative, we produce amazing work and incredible results for clients. Do you devour media in all forms? Are you a connector of people and information? Are you a quick thinker who thrives in agile, collaborative team environments?

Are you looking for an agency where you can build and grow your career? Can you see yourself as part of a team that creatively finds new ways to instill brand loyalty? If so, Finn Partners could be the place.

We are looking for an integrated communications pro to join our team as an Associate Vice President (equivalent to Senior Account Manager in most agencies) in our London office to work on three of the agency's consumer clients.
Our consumer clients include major high street names, leisure and ecommerce businesses. We are looking for an Associate VP to support our teams in the home and leisure sector.

The ideal candidate will have strong consumer and corporate experience working for home/DIY/interiors businesses and while sports/gaming PR experience would also be beneficial it is not a pre-requisite although a passion for sports is essential.

We are looking for someone with a solid knowledge of the following areas, who understands how to maximize the strengths of each to deliver on a brand's objectives:
• Social media: a data-driven expertise in how content creation, paid media, community management, and new and emerging platforms work together to drive purchase.
• Earned media relations: particularly in finding unique opportunities to encourage consumer, lifestyle, business and trade media to cover clients.
• Media and brand partnerships: those that can propel the brand forward by reaching new, like-minded audiences.
• Influencer and spokespersons: strategy and execution that provide the cache of a third-party endorsement.

Armed with a go-getter work ethic and the ability to work across cross-functional teams, this candidate will develop and launch strategic programs from the ground up. The ideal team member also has an extensive background in account management and reporting/analytics as well as a passion for building engaged audiences across any and all client channels, platforms, and mediums.

What you'll be responsible for:
• Collaboration on overall strategy and campaign planning for recognizable consumer brands, working closely with other team leads to integrate programs, find synergies and meet/exceed business objectives.
• Analysing channel performance to identify key trends and recommend new strategies, optimizations.
• Serving as day-to-day client contact.
• Motivating, managing and growing an eager, talented team.
• Developing and cultivating relationships with clients, media, partners and stakeholders.
• Overseeing day-to-day client projects and events, ensuring quality of work.
• Managing client programs including strategy development, campaign execution, team resourcing, analytics and reporting.
• Researching, developing, and presenting new business proposals.
• Managing account administration duties such as billing and financial reporting.
• Reviewing materials (e.g., pitch letters, news releases, newsletters, brand messaging, socialcopy/content) prepared by team members.

The skills you need to succeed in this role:
• Creative strategy development and execution.
• Excellent client communication and leadership skills.
• Understanding of digital/social media platforms, trends, and measurement approaches.
• Strong speaking, writing and editing skills.
• Ability to supervise and motivate account staff.
• Problem solving.
• Ability to manage fast-paced, results-oriented environment.
• Messaging and brand development experience.
• 5-6 years experience, preferably within an agency.

About Finn Partners

Named as a Best Place to Work 2020 by PR Week, 700+ of the most accomplished professionals in the industry make up Finn Partners. With 20 offices across eight countries around the world, our managing partners alone have more than 175 years of combined experience working in the consumer, technology, travel & leisure, financial services, healthcare, education and manufacturing sectors. The firm offers a full-service approach including integrated public relations, content creation, social, digital marketing and research services. Founded in New York in 2011 by Peter Finn with an innovative new model in which entrepreneurial spirit, innovation and partnership drive client success and sustainable agency growth, the firm delivers world-class client service, coupled with best-in-class employment practices, to produce award-winning work and a rewarding culture.
Location
Company Profile
Finn Partners
Finn Partners was launched in late 2011 to realize Peter Finn's vision to create a leading communications agency dedicated to shaping a bold new future in which innovation and partnership are strong drivers of the brand. Finn Partners specializes in the full spectrum of communications services, including digital and social media. Specialty areas include technology, consumer, education, travel & lifestyle, CSR, arts, health, and public and corporate affairs.